I left myself a generous amount of time to test and wear Miguel Matos' "lockdown formulas": Twisted Tuberose, Summer Oud, Chypre Caramel and Agua Exotica indeed make joyful Joyful Collection!
It is amazing how the perfumer's gloomy moods and lack of joy during the 2020 lockdown resulted in such happy-spirited, bright, full-of-life perfume characters!
I fully enjoyed each of the four members of the collection and that does not happen often. Usually, enjoying one out of four is good, two or three is great (but not often), and loving four out of four is an amazing experience and something to write about!
Twisted Tuberose
Twisted Tuberose presents tuberose that made a pirouette around herself, and remained true to her might.
The twist starts on a fresh, green, top: creamy tuberose peeks out almost with a first inhale, balanced with intense, fresh and rather cold conifer layers.
With the sensual efficiency of a slow nail stroke over the bare skin, the opening contrast feels intense and surprising, as sharp and brazing ever-green facets rise attention to what will tuberose do next, where her twists lead.
The heart is fully occupied with intense, indolic white seductress: captivating creaminess is infused with traces of sharp green opening, and also backboned with darker, animalic layers. This is grown-up tuberose: while exposed in a pirouette, she doesn't slip, or becomes heavy – her playful, grown-up posture is impeccable from every angle, and she again twists away from the narcotic territory towards tender woody-gourmand base.
I did not expect a mild, cotton candy touch. It almost feels like a negative of fresh coniferous top: if the green nail strokes thrilled, the candy embrace hugs and soothes. Close to the base, in her final twist, the opulent seductress becomes almost dear.
Through very dynamically composed background twists, Twisted tuberose remained classically grand and hypnotically attractive, and in the whole collection, this perfume is one of the two of my favourites – a tie with Chypre Caramel.
Chypre Caramel
Chypre Caramel is an impressive blend of not sweet but still mouth-watering caramel on good-old animalic chypre background.
The gourmand / old chypre juxtaposition feels at the same time surprising and perfectly logical, self-understandable and almost natural. With smooth inner contrasts, Caramel Chypre exudes sophisticated depths and unpretentious richness.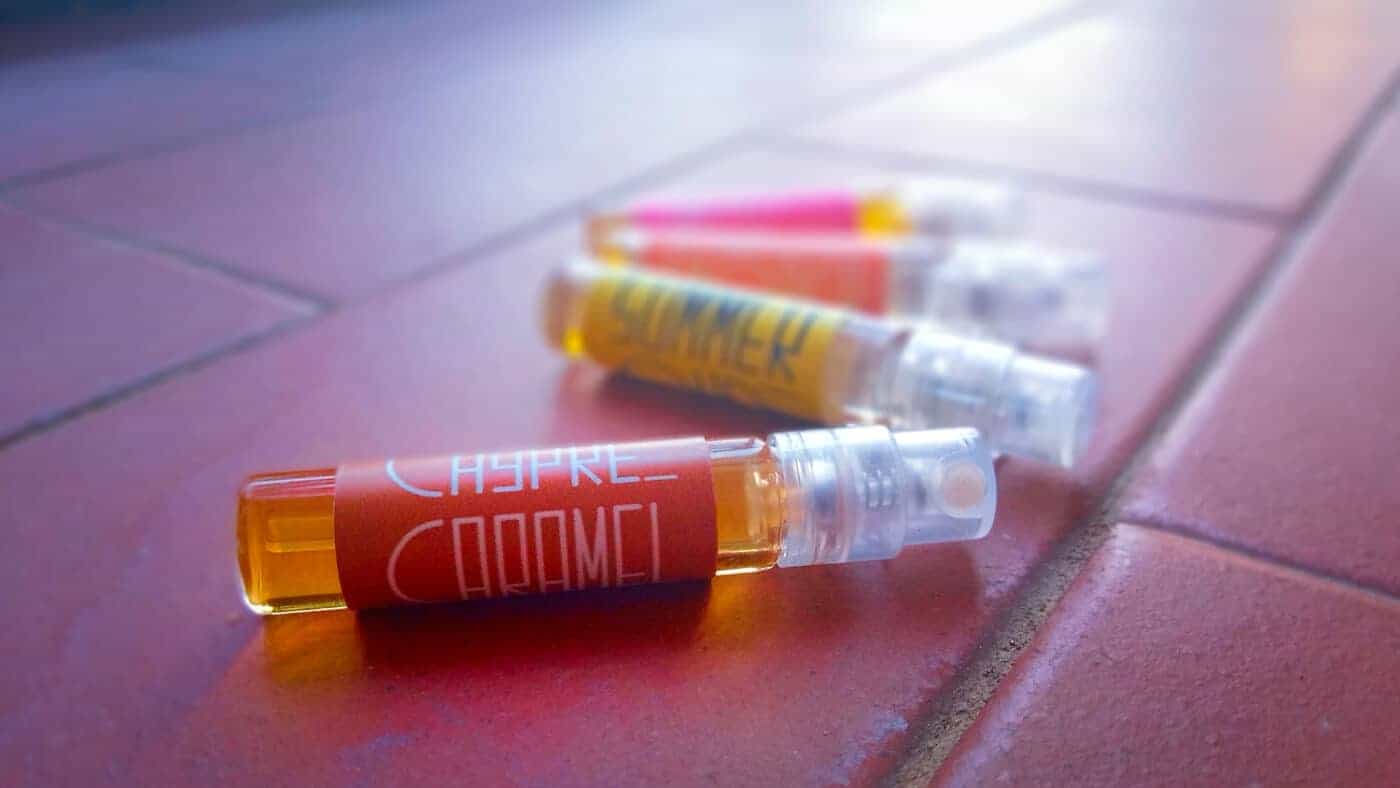 Caramel Chypre feels plush and creamy, tender and very deep: it sticks closely to the structure and character of old-school cypres made with generous doses of now restricted materials and feels utterly wearable in a modern way.
After just a touch of fresh zing in the opening, the caramel accord is intertwined with smoothly blended florals.
The fully textured, not sweet and very creamy caramel is of a distinguished kind: it is there, I smelled it and and my mouth watered, but it didn't steal the show.
Instead of evoking my gourmand cravings, this caramel induced almost intellectual curiosity about how it is served to taste that good.
The dry-down marks the path from gourmand to sensuous, explicating the hunger of a different kind: the hefty dose of civet warms up the caramel.
The animalics purr like a charismatic and unpredictable wild animal, tamed with just caramel and light flowery touch. I seriously doubted that this will be enough to ballance the nature of the animal in the base, and my skin proved me right:
Chypre Caramel remained well-behaved and sophisticated, but still – on the skin, much to my delight of remembering how it feels to wear the grand animalic chypres, it proved it can go either way!
Agua Exotica
I'm not much of a fruit lover (in fact, that's the understatement) and Agua Exotica is (almost) all about exuberantly juicy and bright exotic fruits. So, if you crave mango or any of its pulpy orange/pink fruit relatives – don't miss Agua Exotica, you'll get plenty! And some more on top.
It took me few testings to get through Agua Exotica, but oh boy… I smiled, even giggled, each time!
Aqua Exotica is crafted with a striking sense of balance:
The touch of cold spice over the intense fruity pulp stylishly coquetted with some of my not so great scented memories (like 80-is tutty-fruity bubble gums and the overdoses of mango/maracuja juice in a school bus, on the first school trips).
However, the further development of this wearable summer thrill transformed saturated fruit infusion into a breezy and cheerful light woody perfume. I ended up applauding for such a joyful drive on a very narrow path between fruity-pulp and fruity-chic.
Testing Agua Exotica gave me such fun, and in the end – that's what counts in perfumes, as well as in life.
I even went to my wardrobe and picked, mixed and matched my deep orange, screaming yellow and striking pink pieces to wear the combination on my next Casual Friday in the half-empty summer office.
I still did not dare to wear orange organza plisee trousers with a bright pink one-shoulder top.
Will I – for the office, however casual and empty it might be? Probably not.
But I did dare to do the equivalent – I wore Agua Exotica because summer deserves smart mixes of fun and chic in any environment.
So, lovers of fruits and lovers of bright cheerfulness, lift the leg from the break and go ahead a full speed!
Geared up with ripe, intense fruits, Agua Exotica reaches from 0 to 100 km/h in 3,5 seconds, but the pure magic comes later on when it slows down:
At some point, you'll get this Cabrio feeling of gliding through the sunny open spaces, and those pink glasses from the gloves compartment you might not know you have, may somehow magically land on your nose.
From there, the ride with Agua Exotica becomes just cool!
Even without Cabrio, even in office, in a rather dully dotted summer dress, pink glasses and scented fun stayed on.
Summer Oud
Summer Oud smells like summer lived, and not summer escaped, so don't expect refreshing, cologne-like perfume!
The sun reflects on the polished dark surface, there is dense mix of coconut, fruits and heated oily skin, and if I was to pick the perfume for the after beach party – Summer Oud would be it!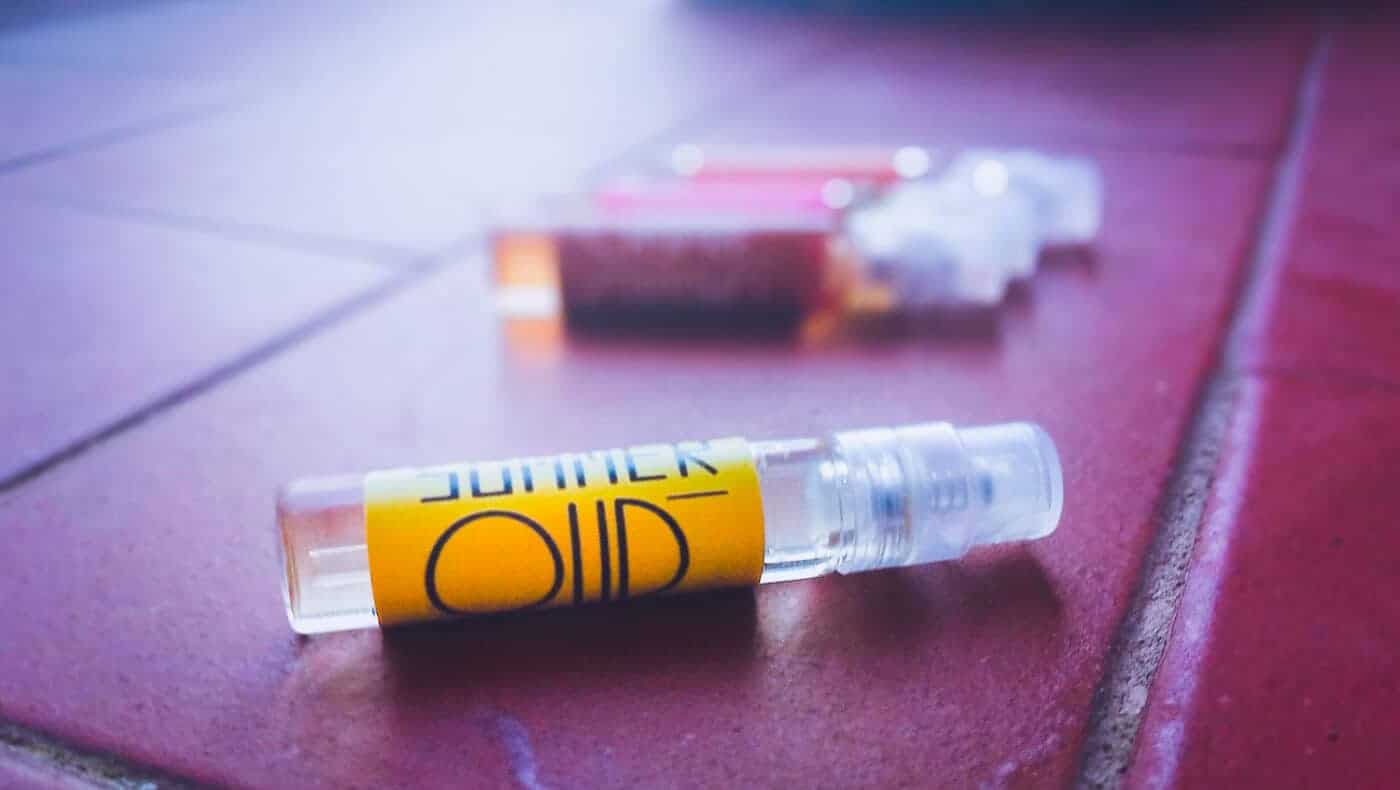 Summer Oud smells like a dive beyond the surface of light summer fun, like a reverse perspective and a view up from underneath, from the dense depths:
There are bright, cheerful raspberries and diffuse banana accord floating on an oily surface, intertwined with coconut paste. Altogether, they might have come from a sun-block or a cocktail, but it somehow seems less important.
Though banana-rasperry-cocont trio are clearly there as the important players in the whole composition, those scented markers of tropical summer smell like a memory of what preceded before the dense, unapologising summer grabbed the soul of the perfume.
Polished, but still intense oud, supported by ambery and woody notes is the main player, but the thick perfume texture doesn't feel heavy at all, and it magically blooms on a warm skin.
Within summer lived, not summer faked context, Summer Oud performed as a member of "your skin, but better" genre, and my skin enjoyed it very much, from the high-pitched noon, to the late, fresher evenings.
The perfumes from the collection are not IFRA compliant. Each creation comes with the notice from Miguel Matos Perfumes: "This isn't a perfume. It´s a piece of olfactory art. It uses safe ingredients only, but can cause reaction in allergy-prone skin. Test on a small patch of skin."