Senyokô collection – La Tsarine (2019) and Madama Butterfly II (2018)
25/11/2019 / Updated on 08/09/2021
Senyokô, a new Parisian niche house, rocketed on the top of my "To test, ASAP" list. Creative directors of Senyokô are Joseph and Eglantine Berthion, the collection was launched in 2018. and the perfumer behind four perfumes is Euan McCall.
Senyokô's concept promised a fusion of "avant-garde elements from literature, fine arts and music rooted both in Eastern and Western culture" and introduced by polished and multilayered visual identity, which presents "Japanese minimalistic elegance and French luxury".
While the narrative around the house is pretty minimalist, the perfumes in the collection – Madama Butterfly II, La Tsarine, Migration de l'Arbre and Duo des Fleurs – are accompanied with beautiful stories and matching illustrations, which was about enough for me to put on the first Senyokô collection on my "To test" list.
The "ASAP" part came with the name of the perfumer. I got to know Euan McCall's work trough his collection for Neanderthal. Though I found Neanderthal's Light and Dark not easily wearable and quite polarising (as intended and as to be expected), I was nevertheless amazed by Mr McCall's skilfulness to create olfactory, emotionally and intellectually engaging perfumes with such strong referential power and such an amazing capability to communicate the idea. Since I truly value those qualities, I was more than just interested how would these Euan McCall qualities be expressed in a more wearable, not experimental concept.
So, that's how Senyokô collection got on the top of my "to test" list, in the "as soon as possible" part.
I must not forget to mention that Migration de l'Arbre was a finalist of Art and Olfaction Rewards 2019. in Independent category.
The four perfumes in Senyokô collection make the symmetric, balanced and rounded structure and manage to create the two super-stories built on motifs shared between the perfumes with complement olfactive profiles and characters.
Each super-story pairs one soft and subtle perfume creation with complement bold, and impressive one.
Connected with the motif of two different female figures on the different poles of what we perceive as "traditional femininity", strong and powerful La Tsarine and soft and subtle Madama Butterfly II together create a story about women's identity, roles, individuality and power/empowerment.
By using the motifs taken from nature, the other super-story again by matching one bold perfume (Duo des Fleurs) and one subtle (La Migration de L'Arbre) refers to symbiosis of the two who belong together and the unbreakable bonds that last through time. Ultimately, the second super-story is about love and life partnerships.
I got what I love the most: with all four perfumes I got my expectations fulfilled, and on top of that the structure and inner coherence of Senyokô collection left me impressed.
The stories about the women through time
Bold and expressive, animalic and refined, La Tsarine is inspired by the figure of Russian empress Catherine the Great (1729 – 1796), a Prussian by birth and a catholic by faith, who married into Romanov family, seized the throne for herself and ruled successfully for more than 30 years.
Catherine the Great expanded the Russian borders and influence both by war and diplomacy and as a devoted supporter of Enlightenment, she established numerous progressive reforms, including vaccination against smallpox and the first state-financed school for women in Europe.
As a woman and a sovereign, she refused to be subjected to another marriage obligations and claimed her full independence, both in the public and private sphere of her life.
Because of the numerous sexual relationships, the history remembers her as promiscuous or even "nymphomaniac" woman, but the modern interpretations of her private life explain her in the context of serial monogamy.
The long-time prevailed version of her death as a result of sexual intercourse with a horse is now clearly debunked as one of many false and misogynic rumours, targeting Catherine the Great as a woman who had the power, used it and did not want to share it in any part of her life.
However, some material remains suggest that the empress of Russia was a big fan of pornography, and Senyokô's explicit illustration (below) is inspired by the Russian imperial furniture (photographed before destroyed), which allegedly was made for the private use of Le Tsarine:
In accordance with Senyokô's minimalist narrative, which is presented almost like a sketch while referring to the extensive context of history or art, the profile Catherine the Great in Le Tsarine is described only as "diplomat by day, conqueror by night".
La Tsarine is a bold and very carnal blend of indolic white flowers, animalics and musk, and will probably be challenging for those who are not fans of explicit olfactive animality.
There is no camouflage or the false modesty: right from the start until the end there is only self-confident directness in exposing carnal elements.
The first stages of development are dominated by the white bouquet (tuberose, narcissus, jasmine, orange flower) which acts as an indolic brigade, supported by cumin. However, though carnal and explicit, the flowers are not cloying. The white flower's sweetness is silenced as if unnecessary or distracting and the opulence somehow feels controlled and focused in an almost intellectual way. This way the indolic brigade really smells like a sexual predator with no need to seduce and whose urges are intellectually controlled in order to become more effective.
Beneath the indolic brigade lies a bit of tender creaminess. But just a bit.
On the way to drydown, the carnal goes from indolic to animalic: a serious dose of dirty musk adds depth and roundness, while joined efforts of castoreum and civet dressed in leather keep the carnal tension going all the way to the dominantly woody base.
My overall impression was: wow.
Le Tsarine goes beyond funk, it is all about mighty effectiveness and the focus.
Though built on demanding animalic and indolic accords, the perfume does not possess any textural heaviness or thickness. It smells powerful, strong, unabashedly explicit and transparent, almost light. The control of the challenging carnal accords resulted in my impression of intellectual and sexual power and might, but also refinement.
I am truly impressed by what Mr McCall did in La Tsarine, and this perfume deserves the attribute "great", like the empress who inspired it.
On the other pole of traditional femininity, there is Madama Butterfly. She is a fictional character, coming from Puccini's opera with the same name. However, the libretto was based on a true story about a young Japanese woman, also in a marriage arranged by her family. Also as the Russian empress, Cio Cio San willingly renounced her religion to accept husband's, but with different consequences, and that is where all similarity ends:
Cio Cio San was not born privileged, like Sophie Friederike Auguste, Catherine later.
Catherine got rid of the spouse she did not want and need, and Cio Cio was abandoned and forgotten by the husband she deeply and devotedly loved.
In every sense, Cio Cio San was a victim of traditional society, unlike Catherine who was listened, obeyed and finally given the attribute "The Great" by the very society she ruled.
Cio Cio San led her unfortunate life as a woman defined by her traditional society and the foreign man she loved, and she killed herself in a traditional Japanese way when she finally realised that she is rejected by both.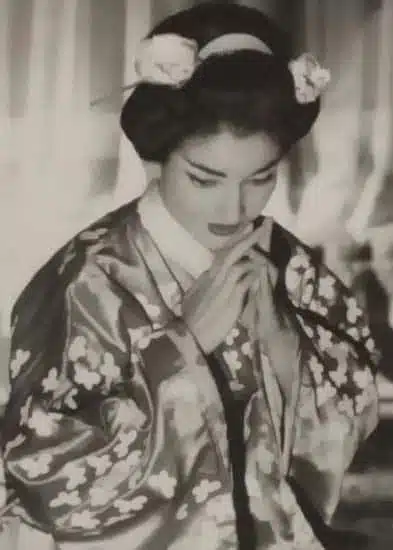 While the story in the opera ends there, Senyokô's narrative extends to – part 2, "a story which questions, challenges, and redefines the traditional notions of femininity and independence".
The idea of rewriting a story about powerless woman into an olfactive story about the rebirth of a woman's identity and strength is emotionally and intellectually satisfying and catching.
The perfume starts with green freshness commonly associated with rebirth, or a new start. The fresh, airy a bit cold and greenish opening is followed by fruits: not juicy or sweet, just round and a bit meaty, suggesting liveness.
Further into drydown becomes apparent that all the "loveliness", "sweetness" and "juiciness" as notions that connect flowers and fruits with traditional feminity are removed. While the heart of Madama Butterfly II is occupied by delicate and plush flowers (iris, sakura blossom) the sweetness is replaced with a transparent layer of smoke adding almost introspective depth.
The perfume remains tender and subtle, but beneath the flowers lies a serious substance: the woody base enveloped in creamy and light, but thick musk is substantial and compact.
The metamorphose is done: this delicate butterfly II possesses substance and strength and smells like femininity that won't allow being pinned and fixed into a place like a butterfly.
And this is just a first super-story about the two perfumes in Senyokô collection. The other one about nature, love, life, belonging and unbreakable bonds is still to be interpreted, and I'll do that in another post.
Senyokô's creative team presented the concept with absolutely no loose ends, and I am once again impressed with Mr McCall's focus and artisanal hand.
To test, ASAP.